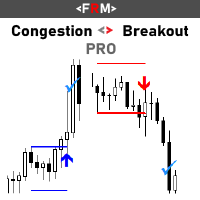 Congestion Breakout Pro - Forex Indicator
Download Free Demo Version 
Congestion Breakout Pro is a Forex Indicator that scans the breakout of forex congestion zones . This Forex indicator is unlike any other congestion indicator you will find in the forex market right now,  it uses an advanced algorithm not peculiar to most traditional forex congestion breakout indicators available today . The advanced algorithm used to define the forex congestions  is greatly responsible for the high rate real congestion zones and low rate fake congestion breakout zones spotted by this forex product .To use , simply scan the most profitable forex pair using the statistics dashboard accuracy , then enter trades on signal arrow and exit at the Take Profit and Stop Loss levels.
HOW IS THIS PRODUCT ANY DIFFERENT FROM OTHER CONGESTION FOREX INDIATORS I HAVE SEEN/USED ?
We at
ForexRobotMakers
have always been know for high quality of the forex products we develop. Because we  didn't  want to shun out just any Congestion Breakout Indicator into the Mql5 market , we took our time to develop this forex indicator with the trader's need in mind . Some features of this forex product includes :
1.)  Filtered Congestion Breakout Zones : We have applied an advanced algorithm to filter out fake congestion breakout zones so that trader can avoid bad trades as much as possible. Not every congestion zones are valid, the stage of the market and the strength of the previous trend are some factors that should also be taken into consideration.
2.) Net Profit Calculated with Accuracy Data : Sometimes forex indicators might be showing 90% (ninety) accuracy from its calculation but can actually be a loser and the losses made on the 10% (ten) losing trades might overshadow the profit made on the other 90%(ninety) trades. With this in mind, we have taken the time to also calculate the  profit  made in pips along the accuracy result. With this information , a trader can have an informed decision on the best pair and time frame to trade .
Accuracy : This is the percentage of the times price hits TP1 before it hits stop loss.
Accuracy = (Total TP1 Hit /Total signals )*100
Gross Profit : Gross Profit (pips) : The gross profit in pips is the total profit in pips generated from the signals before excluding the losses.
Gross Loss : The gross profit in pips is the total loss in pips incurred from the signals.
Net Profit : The NET profit in pips is the total profit in pips generated from the signals after excluding the losses.
Days : The number of days scanned in the historical data.